AgentPro
Meet your estate agency's new secret weapon. AgentPro is a powerful piece of comprehensive estate agent software which takes care of every aspect of your business; from instantly updating property portals to keeping on top of your finances.
The only thing it can't do is make the tea. Find out how AgentPro estate agency software can make your business better.
Sales & Lettings
Whether you specialise in sales or lettings, AgentPro's cutting edge software for estate agents and lettings agents allows you to take care of absolutely everything (and the kitchen sink).
Book market appraisals, convert new instructions automatically, find the perfect buyer with precise client matching, create offer letters instantly, handle deposits for DPS – there's so much AgentPro can do, the only way is to show you.
Financial Features
Money might make the world go around, but AgentPro keeps all of your finances straight and in one place.
Our smart estate agent software takes care of business, from producing and recording the smallest receipt to automatically calculating non-resident landlord tax retention.
Our advanced financial features allow you to:
Perform double entry bookkeeping
Allocate nominal codes for reporting
Process payments
Automatically generate and send invoices
Automatically send reminders for late payments
Export all financial data to Excel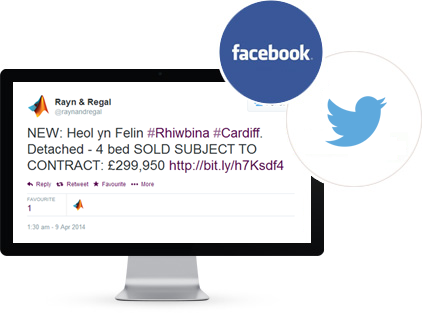 Social Media
Automatically generate Facebook posts and tweets each time you upload or update a new property with AgentPro.
Our estate agents software will automatically generate new social media accounts for you or integrate your existing social accounts into your shiny new AgentPro software, keeping you connected and helping your properties go viral. Great for attracting a local audience with automatic, area-based hashtags!
Newsletters
Don't worry about letter boxes, direct marketing today is all about email inboxes. AgentPro's software for estate agents makes building and distributing exciting email newsletters quick and simple.
The whole process, from compiling new properties to updating readers with current news, can be done in AgentPro, then sent via email and uploaded to your website ready for download. Show that you're a pro-active agency, keep your brand fresh in the minds of potential customers.
Calendars
Never miss another appointment again. AgentPro's integrated calendar tool allows you to book a wide range of appointments – and send out text or email reminders to other attendees.
Get a full overview of your business's appointments, even across multiple branches, so you can manage and schedule tasks for individual negotiators and for the entire company.